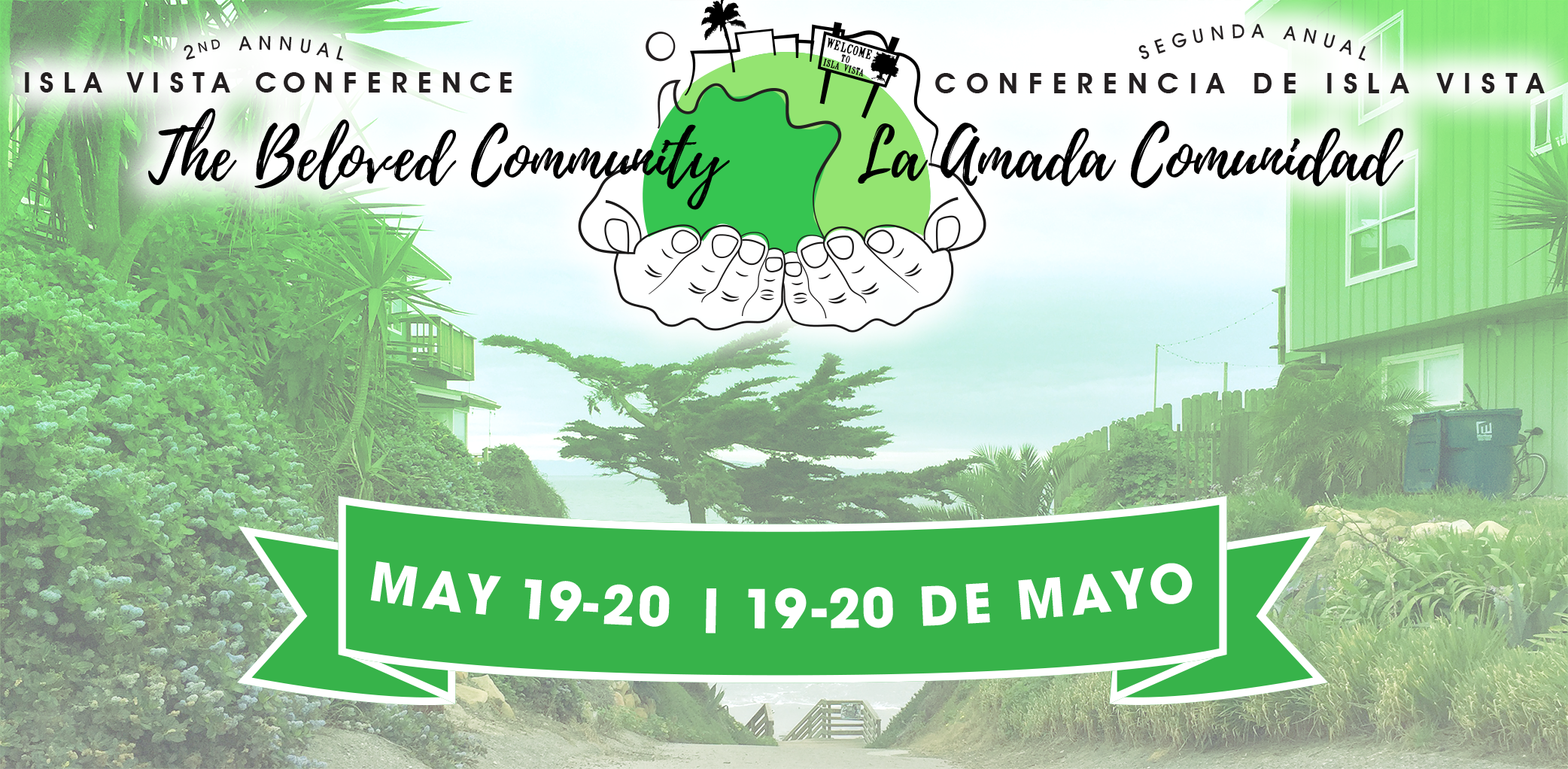 Program:
FRIDAY, MAY 19
4:00-7:00pm | "We are Isla Vista: Opening Reception and Art Exhibit"
Community Resource Building
Opening art exhibit and reception which will showcases murals as reflections of many aspects that make Isla Vista our Beloved Community. Food and refreshments provided by Isla Vista Food Coop. Presenters: Sue Whisenand and Paola Dela Cruz
SATURDAY, MAY 20
8:30-10:00am | Breakfast
Embarcadero Hall
Join us for a free light breakfast catered by the Isla Vista Food Co-op, with coffee and bagels from Bagel Cafe.
9:00-9:45am | "Where We Came From: Honoring and Remembering Our Roots"
Love and Remembrance Garden at People's Park
Reflecting in a sacred circle on our roots and our environment, we renew our best intentions for the work of being good ancestors for the coming generations. Presenter: Roberta Cordero
10:00-11:30am | "Where We've Been: Our Beloved Community"
Embarcadero Hall
The opening session will welcome attendees to the Conference and allow participants to deepen their understanding of Dr. Martin Luther King's vision of a Beloved Community within the context of Isla Vista.
Presenters: Diana Collins Puente, Sojourner Kincaid Rolle, and LuAnn Miller
11:30am-1:30pm | Lunch
Anisq'oyo Park (by the children's playground)
Join us for a lunch break in which we relax, enjoy food from the Isla Vista Food Co-op and Super Cucas, and continue discussions about how we learn through community engagement. We will have the following recreational and programming activities available for Conference participants:

Giant Jenga with UCSB Adventure Programs
Slackline with UCSB Adventure Programs
"See the Light" Candle Workshop with the A.S. Commission on Student Well-Being
Tour of Isla Vista Parks with the Isla Vista Recreation and Parks District
Yoga with UCSB Counseling and Psychological Services
Live Art with Gabriel Cardenas sponsored by Museum of Contemporary Art Santa Barbara

1:30-4:45pm | "Where We Are: Isla Vista Talks"
Community Resource Building
This session will provide participants with an opportunity to engage with each other in a facilitated community conversation about the diverse demographic communities in Isla Vista and how we are engaging with them. The following six communities will be central to our conversation: college students, families, service providers, businesses, university staff/faculty, and the houseless
community. Presenters: Fran Sen, Isla Vista Teen Leader, Ashcon Minoiefar, Melissa Cohen, and Father Jon-Stephen Hedges. Additional presenters to be announced. Facilitators: Aaron Jones and Diana Collins Puente
5:00-6:30pm | "Where We're Going: Manifesting Our Ideal Vision"
Community Resource Building
This session is a hands-on workshop for participants to engage with each other, reflect, plan and share their ideas on how to continue their own leadership to foster and engage inclusivity and equity in organizations and communities towards the Beloved Community. The session will end with closing remarks and a community circle. Presenters: LaDonte King and Rick Benjamin
6:30-8:30pm | "Vini e Crostini"
Sorriso Italiano Restaurant
Join us for an evening gathering with "vini e crostini" at Sorriso Italiano. Please note that attendees will pay for their own food and drinks.
Programa:
VIERNES, 19 DE MAYO
4:00-7:00pm | "Somos Isla Vista: exhibición de arte y recepción de apertura"
Community Resource Building (Edificio de Recursos Comunitarios)
Apertura de exhibición de arte y recepción que mostrará murales como reflejos de muchos aspectos que hacen de Isla Vista nuestra Comunidad Amada. Refrescos proporcionados por Isla Vista Food Coop. Presentado por: Sue Whisenand y Paola Dela Cruz
SÁBADO, 20 DE MAYO
8:30-10:00am | Desayuno
Embarcadero Hall
Únase a nosotros para un desayuno ligero (y gratis) preparado por la Isla Vista Food Co-op y cafe y bagels del Bagel Cafe.
9:00-9:45am | "De dónde venimos: honrando y recordando nuestras raíces"
Love and Remembrance Garden (Jardín del Amor y el Recuerdo) en People's Park
Reflexionando en un círculo sagrado sobre nuestras raíces y nuestro medio ambiente, renovamos nuestras mejores intenciones para el trabajo de ser buenos antepasados para las generaciones venideras. Presentado por: Roberta Cordero
10:00-11:30am | "Donde hemos estado: nuestra amada comunidad"
Embarcadero Hall
La sesión de apertura dará la bienvenida a los asistentes a la Conferencia y permitirá a los participantes profundizar su comprensión de la visión del Dr. Martin Luther King de una Comunidad Amada dentro del contexto de Isla Vista. Presenters: Diana Collins Puente, Sojourner Kincaid Rolle y LuAnn Millerr
11:30am-1:30pm | Almuerzo
Anisq'oyo Park (por el parque infantil)
Únase a nosotros para la hora del almuerzo en la cual nos relajamos, disfrutamos de la comida de la Isla Vista Food Co-op y Super Cucas, y seguimos las discusiones sobre cómo aprendemos a través de la participación comunitaria. Tenemos las siguientes actividades recreativas y de programación disponibles para los participantes de la Conferencia:

 Jenga gigante con UCSB Adventure Programs
Slackline (cruza la cuerda) con UCSB Adventure Programs
"Mira la luz" taller de velas con A.S. Commission on Student Well-Being
Tour de los parques de Isla Vista Parks con Isla Vista Recreation and Parks District
Yoga con UCSB Counseling and Psychological Services
Live Art with Gabriel Cardenas sponsored by Museum of Contemporary Art Santa Barbara

1:30-4:45pm | "Dónde estamos: Isla Vista habla"
Community Resource Building (Edificio de Recursos Comunitarios)
Esta sesión proporcionará a los participantes la oportunidad de involucrarse en una conversación comunitaria facilitada sobre las diversas comunidades demográficas en Isla Vista y cómo nos involucramos con ellas. Las siguientes seis comunidades serán cruciales para nuestra conversación: estudiantes universitarios, familias, proveedores de servicios, negocios, personal/facultad
universitaria, y la comunidad sin hogar. Presentado por: Fran Sen, Isla Vista Teen Leader, Ashcon Minoiefar, Melissa Cohen, y Father Jon-Stephen Hedges. Additional presenters to be announced. Facilitado por: Aaron Jones y Diana Collins Puente
5:00-6:30pm | "Dónde vamos: Manifestando nuestra visión ideal"
Community Resource Building (Edificio de Recursos Comunitarios)
Esta sesión es un taller práctico para que los participantes se comprometan, reflexionen, planifiquen y compartan sus ideas sobre cómo continuar su propio liderazgo para fomentar y promover la inclusión y la equidad en las organizaciones y comunidades hacia la Amada Comunidad. La sesión terminará con comentarios finales y un círculo de la comunidad. Presentado por: LaDonte King y Rick Benjamin
6:30-8:30pm | "Vini e Crostini"
Sorriso Italiano
Únase a nosotros para una reunión nocturna con "vini e crostini" en Sorriso Italiano. Tenga en cuenta que los asistentes pagarán por su propia comida y bebidas